MILLSTADT FLIGHT PARK (1IL4)
A Privately-Owned Airport located 4 miles SW of Millstadt, Illinois
---



Millstadt Flight Park

is a Privately Owned airport located 4 miles SW of Millstadt, IL. Our goal is to be a family-friendly place for sport pilots to fly and kids to throw a frisbee without getting yelled at.

Visitors are welcome but prior permission is required, so send us a message before you visit. We want to be a good neighbor and maintain the quiet, rural nature of the airport, so fly neighborly.

Group hangar space and hangar parcels are available. 100LL AvGas and Premium Ethanol-Free MoGas are available for based aircraft.

Home of EAA Chapter 64 and AeroCareers Flying Club.

---
AIRPORT DATA




Located 4 miles SW of Millstadt, Illinois at 5941 Bohleysville Road



Field Elevation: 631' MSL - - - Traffic Pattern Altitude: 1,630' MSL - - - CTAF: 122.9 (Call "Flight Park Traffic")

N38°25.12' / W90°07.87'

[ CLICK HERE FOR CURRENT AIRPORT WEATHER CONDITIONS ]

RUNWAY 24:
Left Traffic. 2,300' available for takeoff; 2,042' available for landing beyond 258' displaced threshold.


RUNWAY 06:

Left Traffic. 2,300' available.
NOISE SENSITVE AREA: AVOID OVERFLIGHT OF ALL HOMES, BUILDINGS, AND LIVESTOCK. A modified straight-in approach is recommended. When departing Runway 06, turn right 15 degrees and climb to 1,000' AGL before making a left turn. Do not fly multiple patterns. (Download a map of noise sensitive areas by clciking here.)



Prior Permission required prior to use.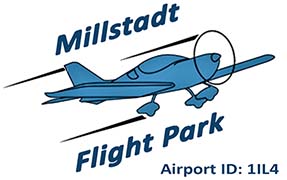 OWNED & OPERATED BY:


Flight Park, Inc.
225 Carl St., Columbia, IL 62236
Call or Text: 618-530-0805
E-mail: flightpark@1il4.com